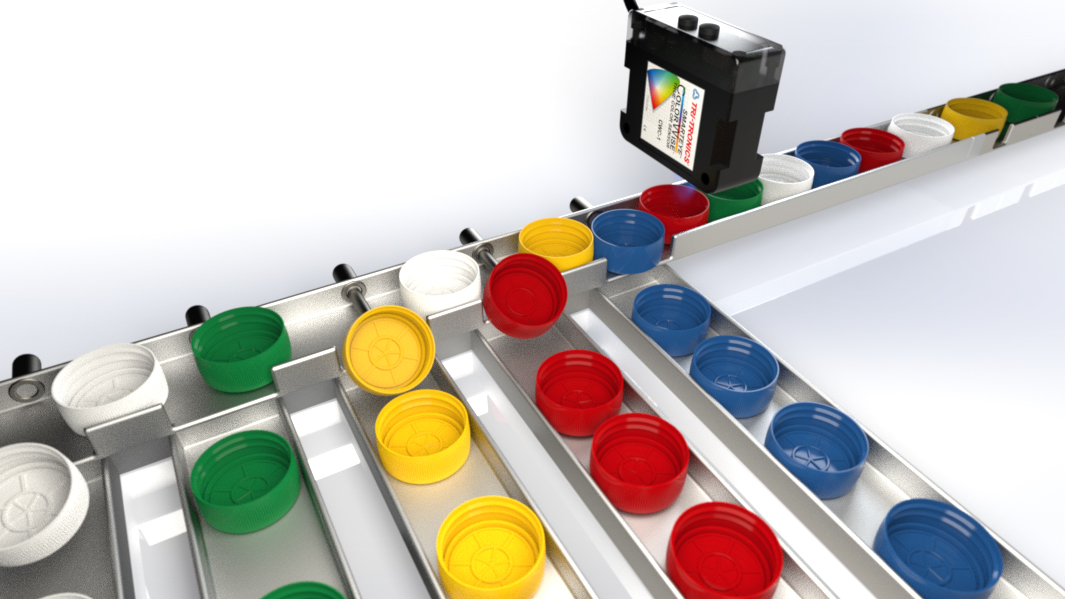 By Matt Reinstetle
When companies begin building the infrastructure to make their products, many factors are considered to make sure their products stand out from the field. Beyond the technical side, as in why "Product A" is better than "Product B," one way to stand out on store shelves is with packaging.
Unfortunately, not all packaging labels and materials can be easily detected by your standard run-of-the-mill photoelectric sensor. That is why when companies need more from their sensors, they turn to color sensors.
What is a Color Sensor?
Color sensors are a particular type of photoelectric sensor. While standard photoelectric sensors detect a difference in the light level received from the light source, such as identifying an object or registration mark, color sensors can be programmed to tell the difference between different colors.
Benefits of Using Color Sensors
Flexibility – One of the most significant advantages of using color sensors is that it allows the user more flexibility in how the sensor can detect objects. With the ability to select colors as the registration mark, the user no longer depends on the contrast of the registration mark for detection.
Run Multiple Operations on One Line – Most businesses do not make just one product. Companies often make products that come in different flavors, scents, sizes, or shapes. Instead of spending incredible amounts of money creating separate lines for each product, a color sensor can save money. By using the color sensor's ability to be programmed to recognize selected colors on the packaging or labeling, each product will be sent to the proper place at the end of the line.
Reliability of Detection – One important factor when using photoelectric sensors for detection is the contrast level of the item being detected. Some sensors may find it difficult to identify a brown registration mark on a black background. Meanwhile, a black mark on a white label will be no problem for the sensor. When using color sensors, the color of the registration mark will not be affected by the background, creating a more accurate detection.
Reduce Cost and Production Time – Color sensors can be programmable to incorporate other functions, which reduce the need for secondary products to complete tasks. For example, once a color sensor recognizes a specific color, the machine can be taught to know to send the object down the correct line five seconds later.
Applications for Color Sensors
Color Sorting – Color sensors are a fantastic option for detecting different colored objects traveling down the same conveyor. For example, bottles with different colored caps can be separated by color and sent down a different path of the conveyor to be packaged correctly.
Color Verification for Quality Inspection – Once the color sensor is set to the appropriate color, the sensor can detect products which don't have the proper color and eject them from the line. Another application comes in the form of detecting missing colors from labels and packaging.
The SMARTEYE ColorWise by TRI-TRONICS
The SMARTEYE ColorWise by TRI-TRONICS is designed to work as an instrument or spectrometer, and solve difficult color applications. The four-channel monitor allows the sensor to recognize four different colors to activate four different commands. The ColorWise also gives the operator control over tolerance, light intensity, input configuration, output configuration, timers, and more.
More About TRI-TRONICS
Here at TRI-TRONICS, we specialize in making photoelectric sensors, rotary encoders, and elevator door protection systems. We manufacture a wide variety of sensors and sensor accessories for many applications.
We understand that our customers have a job to do and have no time for issues. That is why every product TRI-TRONICS builds is made to be easy to use and durable enough to withstand the harshest environments. We also offer product customization and private labeling upon request.
For product inquiries, please give us a call at (800) 237-0946 or email us at info@ttco.com.