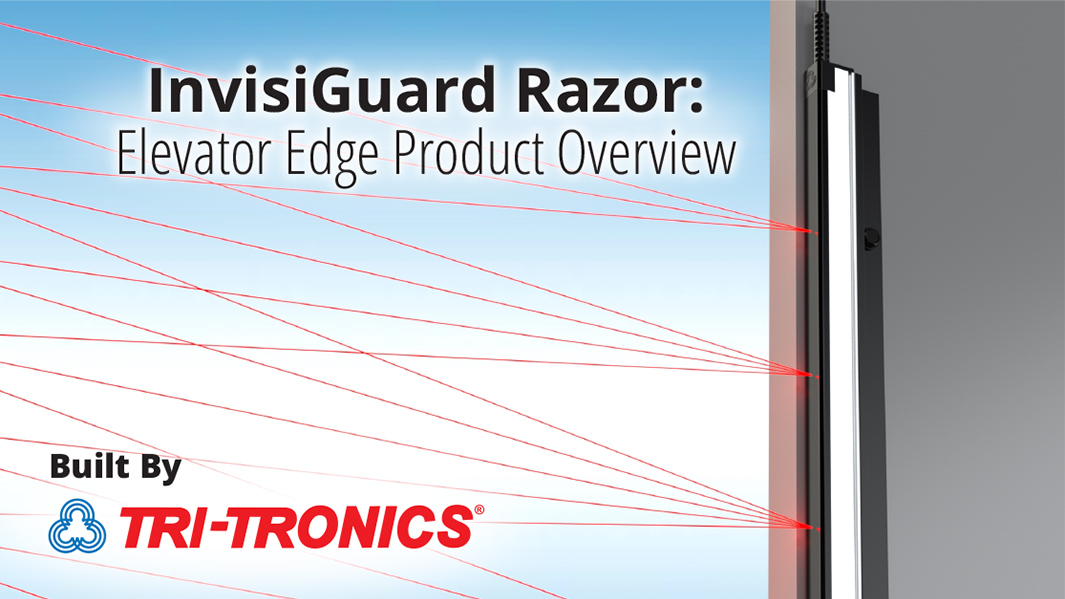 By Matt Reinstetle
For those who work with elevator door security systems, having a system which is reliable and durable is important. A reliable and durable system allows for peace of mind knowing that safety and constant maintenance will not be necessary. Here at TRI-TRONICS, we have specialized in designing and supplying trusted products used in the elevator industry for more than 25 years. The InvisiGuard Razor, our latest elevator edge, is a great edge choice for multiple reasons. Learn more about the InvisiGuard Razor.
Quick Installation
The InvisiGuard Razor elevator edge is designed to be compatible with modern and older cab doors. Our unique dovetail bracket design makes configuring the edge for mounting to side and center parting doors an easy task.
The edges feature a slim design of 12 mm, making installations in tight or narrow spaces much easier. For those looking to modernize their current elevator security system, the InvisiGuard Razor is a great option.
Maximum Protection
The InvisiGuard Razor features 32 LED light pairs. These light pairs create 154 cross scanning beams to form an infrared light net to catch an obstruction of any size. Door protection runs 25 mm up to 1,800 mm above the door sill and is compliant with EN 81-70 standards.
Health Monitoring System and Power Supply
Each edge set includes a visual health monitoring systems. These monitoring systems indicate that the system is fully functional during an inspection. The light source and receiver array are interchangeable. The 5m-cables are made with a high-flex material and are fitted with watertight industrial strength M8 connectors.
The universal power supply makes connecting the InvisiGuard Razor to any door controller and cab easy. The power supply adapts to AC or DC supply voltages from 20 volts to 265 volts. For maintenance, there is no need to remove the edge or open the power supply, and replacing the cable is simple.
Durable
The InvisiGurad Razor elevator edges are tested for ruggedness and reliability before they ever leave the factory. Each of our edges is age tested, being powered on and powered off, for 72 hours. The extrusion made of clear-coated aluminum and the window of the health monitoring system is polycarbonate, and the brackets are made of PVC. The InvisiGuard is IP65 certified, meaning they are dust-tight and waterproof.
Each TRI-TRONICS edge comes with a 3-year warranty for additional peace of mind.
How Do I Purchase the InvisiGuard Razor?
The InvisiGuard Razor is available in three sets:
IG-R InvisiGuard System with PSC-UR universal power supply
IG-RN InvisiGuard System with PSC-URN nudging universal power supply
IG-RDC InvisiGuard System without universal power supply
Here at TRI-TRONICS, we specialize in making photoelectric sensors, rotary encoders, and elevator door protection. We carry a wide variety of elevator security systems to meet your exact specifications.
We understand that our customers have a job to do and have no time for issues. That is why every product TRI-TRONICS builds is made to be easy to use and durable enough to stand the test of time. We also offer product customization and private labeling upon request.
For product inquiries, please give us a call at (800) 237-0946 or email us at info@ttco.com.