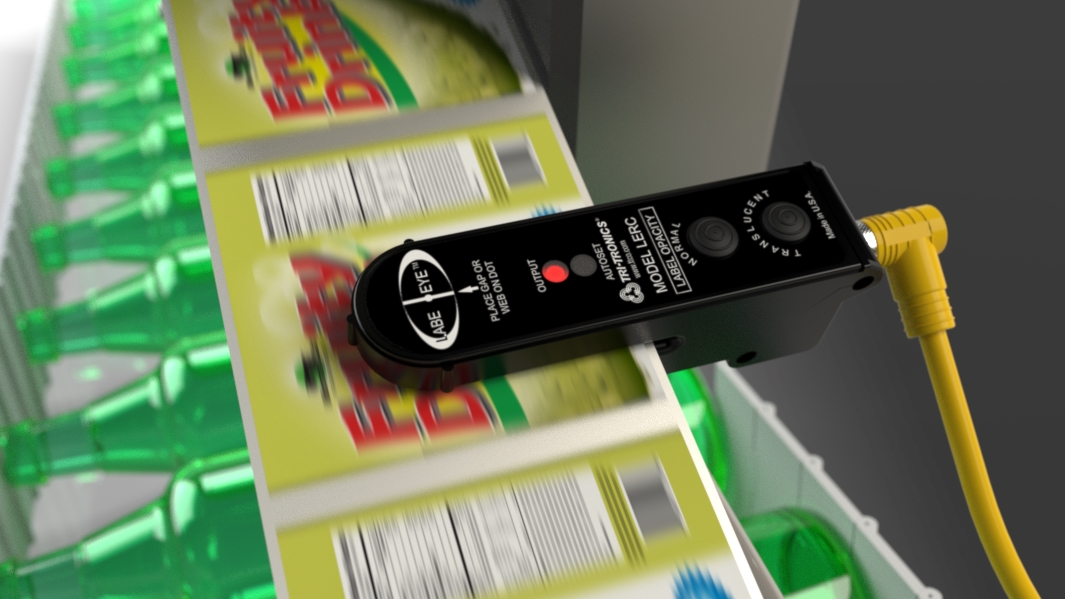 By Matt Reinstetle
For those who work with adhesive labels in industrial automation, having a fast and accurate photoelectric sensor is key. But what about ease of use?
Having a label sensor which requires a lot of modifications or tweaking when switching between different types of adhesive labels will slow down the production process. That is why we at TRI-TRONICS focus on making easy to use products which will last the test of time.
When it comes to label sensors, look no further than the Label-Eye. The Label-Eye is a special purpose gap or slot sensor designed to detect adhesive labels adhering to a roll of backing paper. The Label-Eye detects the "gap" between the labels and the adhesive roll. The Label-Eye has been a popular choice in label sensing for many reasons.
Ease of Setup
When installing the Label-Eye, it only takes a few minutes before you're ready to go. One of the most attractive features is that it can be setup with the push of a single button. There is no need to use screwdrivers to adjust settings. All you need to do is place the label gap in its position and press the "Normal" button for opaque labels or the "Translucent" button for translucent labels. That's all there is to it.
Easy to Read Display
There are only two LED lights and two buttons on the Label-Eye. The two LED lights indicate the completion of setting up the auto set and an output indicator. For ease of use, the center of detection is easy to find, located in the center of the Label-Eye logo.
Reliability
In addition to its push button setup and easy to read display, the Label-Eye offers 100 microsecond response time when detecting labels. This sensor features a common style and configuration for greater compatibility, cable and quick-disconnect models are available to suit your needs.
Applications
Below is a list of possible applications for the Label-Eye:
Double sheet detection
Envelope contents sensing
Edge guiding
Splice detection
Label counting
Winder, re-winder
Die cutter
Label hot-printing
High speed dispensing
High-Speed Version
TRI-TRONICS makes different versions of the Label-Eye, including a high-speed version. The high-speed Label-Eye cuts the response time by a factor of 10. You can find out more about the high-speed Label-Eye here.
How Do I Find Out More?
Here at TRI-TRONICS, we specialize in making photoelectric sensors, rotary encoders, and elevator door protection. We carry a wide variety of sensors to meet your exact specifications.
We understand that our customers have a job to do and have no time for issues. That is why every product TRI-TRONICS builds is made to be easy to use and durable enough to withstand the toughest environments. We also offer product customization and private labeling upon request.
For product inquiries, please give us a call at (800) 237-0946 or email us at info@ttco.com.