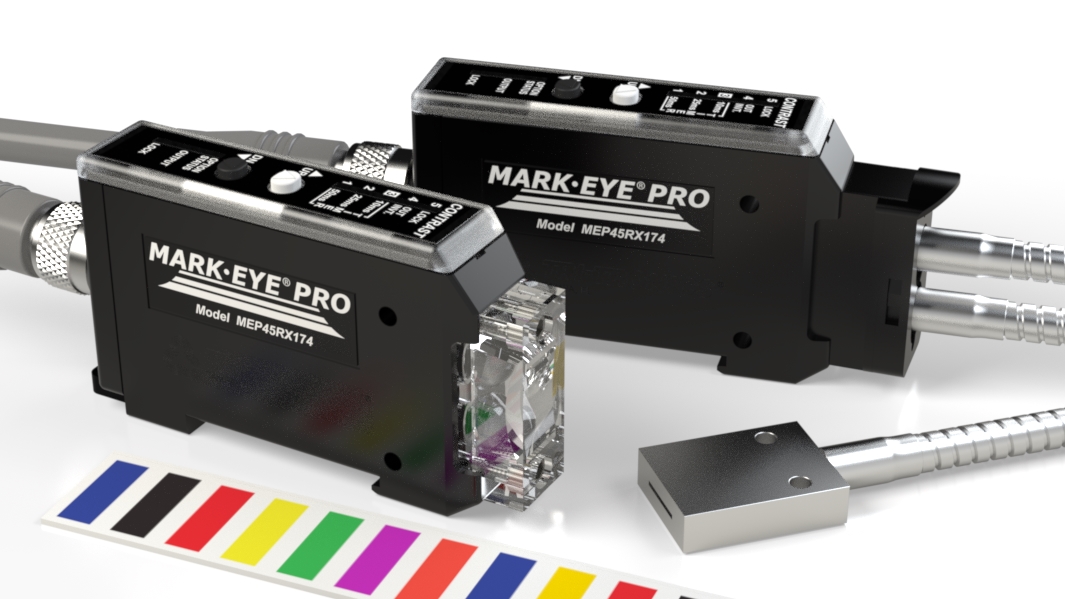 By Matt Reinstetle
As production lines get faster and faster, having photoelectric registration mark sensors capable of keeping up with increasing demands is important. That is why TRI-TRONICS developed the MARK-EYE PRO.
The MARK-EYE PRO is a registration mark sensor designed to detect printed registration marks on a continuous web. The sensor delivers high-resolution performance by utilizing the broadband characteristics of a white light LED for detecting the greatest variety of color combinations on any color background.
Highly Accurate
The MARK-EYE PRO is highly accurate for precise detection of registration marks at high speeds, able to detect objects at speeds of 45 microseconds. No matter the surface, as long is there a light and a dark color to contrast, the MARK-EYE PRO will detect it at those speeds.
Unique Features
Some of the unique features of the MARK-EYE PRO include the EDR and the AGS. The EDR – Enhanced Dynamic Range – circuit. It prevents dark state saturation and expands the operating range without reducing amplifier gain.
The AGS – Automatic Gain Select – provides automatic digital selection of amplifier gain based upon your sensing requirements.
Optical Detection Options
The MARK-EYE PRO can be fitted with interchangeable optical blocks or fiber optic light guides. Plastic light guides can also be used with this sensor.
Easy to Setup, Built to Last
Setting up the MARK-EYE PRO is incredibly user friendly due to its two-button configuration. With one push of a button, the AUTOSET adjustment routine can be set, even in dynamic operating conditions. If the sensor needs to detect registration marks in hard-to-reach places, fiber optic light guides can be attached.
More About TRI-TRONICS
Here at TRI-TRONICS, we specialize in making photoelectric sensors, rotary encoders, and elevator door protection systems. We manufacture a wide variety of sensors and sensor accessories for many applications.
We understand that our customers have a job to do and have no time for issues. That is why every product TRI-TRONICS builds is made to be easy to use and durable enough to withstand the harshest environments. We also offer product customization and private labeling upon request.
For product inquiries, please give us a call at (800) 237-0946 or email us at info@ttco.com.