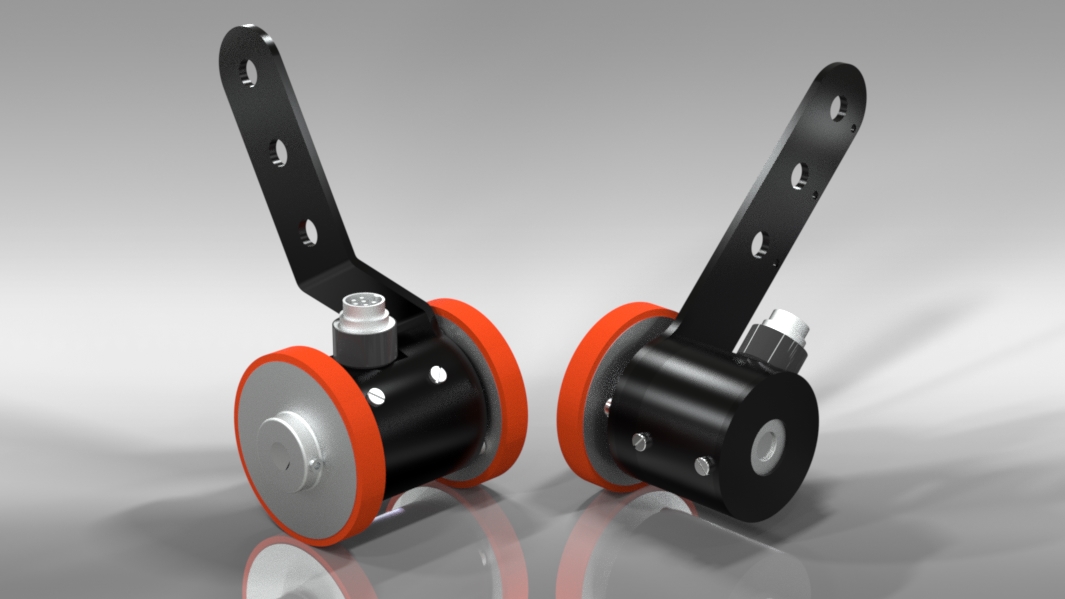 By Matt Reinstetle
When companies build or modernize their industrial manufacturing production lines, there are several aspects to consider while selecting which equipment to use.
Odds are encoders will play a crucial role in the manufacturing process. And if conveyors are part of the company's setup, then wheel encoders will be used. There are two types of wheel encoders – single-wheel encoders or dual-wheel encoders. Each style of wheel encoder has their strengths.
What is a Wheel Encoder?
Wheel encoders ride directly on moving material. The wheel tread has a high coefficient of friction, and have a very low starting torque resulting in virtually no slippage. The wheel's circumference is precision ground with exacting tolerances translating into an integral number of encoder pulses per unit of linear movement.
Benefits of Using a Single-Wheel Encoder
For companies confronted with limited space on their industrial manufacturing lines, a single-wheel encoder may be the best option. Single-wheel encoders offer more mounting options as the majority of the encoder body does not need to be directly placed over the conveyor, since only a single wheel needs to be making contact.
Single-wheel encoders also are a more economical wheel encoder model versus its dual-wheel counterpart.
Benefits of using a Dual-Wheel Encoder
When space is not a concern, the dual-wheel encoders are a great option. Dual-wheel encoders offer greater stability than single wheeled encoders. The second wheel helps to minimize the chance of being out of sync and miss pulses due to an uneven or vibrating conveyor surface. Having a second wheel is also helpful for cutting applications which require extra grip on the surface, such as sheets of metal or fabric.
Need Help Deciding Which Option is Best for You?
If you are still having trouble deciding between a single-wheel or dual-wheel encoder, TRI-TRONICS is here to help.
Here at TRI-TRONICS, we specialize in making our Photocraft Encoders for shaft, hollow shaft, wheel, and absolute encoder applications. Our knowledgeable staff of representatives and engineers will gladly help you decide which style of wheel encoder is best for your business.
We understand that our customers have a job to do and have no time for issues. That is why every product TRI-TRONICS builds is made to be easy to use and durable enough to withstand the toughest environments. We also offer product customization and private labeling upon request.
TRI-TRONICS also makes photoelectric sensors for industrial applications. For product inquiries, please give us a call at (800) 237-0946 or email us at info@ttco.com.