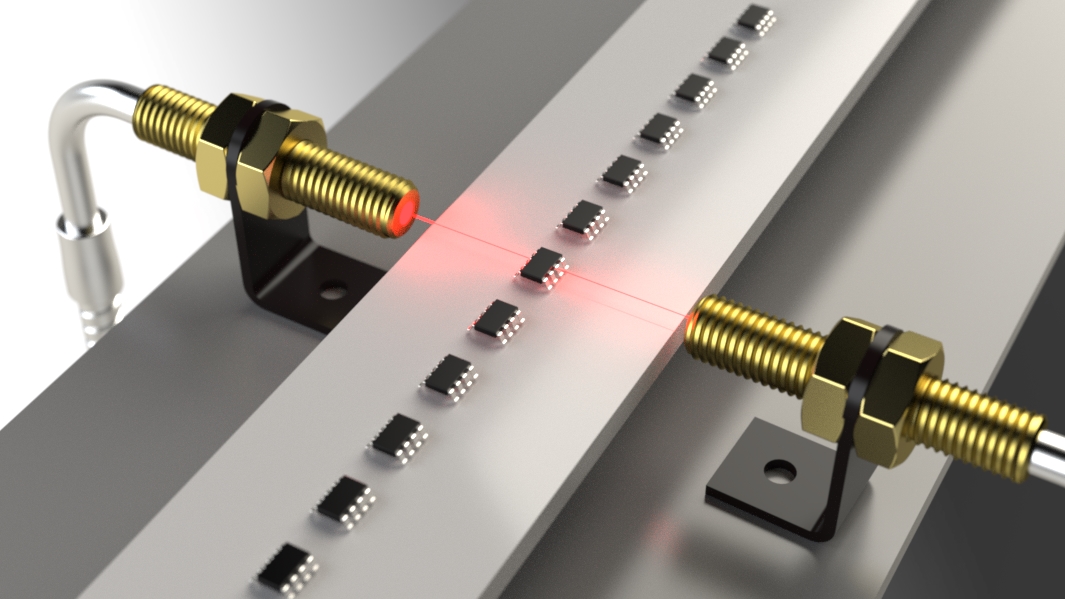 By Matt Reinstetle
Industrial automation is a broad industry. Each company has a different set of needs to build their products and have them shipped out the door on time. Some companies deal with large objects while others deal with small products.
For those who work with smaller objects, markings, elements, precision is essential. That is why having the right sensor is important to keep the production line flowing as quickly and accurately as possible. Let's take a look at what are the best ways to detect small targets for industrial automation.
Thru-Beam Sensing
The best way to detect small objects is with the opposed/thru-beam method of detection. In thru-beam sensing, two separate devices using lenses or fiber optic light guides create a beam. One sensor is the light source, and the other is the receiver. Detection occurs when an object interrupts or sufficiently diminishes, the intensity of the received light beam.
Fiber Optic and Lens Sensing
As stated before, there are two variations of thru-beam sensing, one way is with using lenses, and the other is using fiber optic light guides.
Fiber optic sensors use fiber optic light guides to deliver the light to the sensing position. Fiber optic sensors are a great option for detecting small targets, working in unfavorable conditions and tight areas.
Lens sensing uses optical blocks to emit light used in detection instead of fiber optic light guides. Lens sensing is a great option for sensing over longer ranges.
Which Sensors are Recommended?
Here at TRI-TRONICS, we specialize in making photoelectric sensors designed for your industrial automation needs.
If you are looking for a fiber optic sensor, please check out our fiber optic sensor page. One of our most popular fiber optic sensors is the SmartEye EZ-PRO. The SmartEye EZ-PRO is designed to be reliable, easy to use, and reduce downtime.
If you are looking for a lens sensor, please check out our MINI-EYE sensor. The MINI-EYE sensor is an economical and rugged model that is immune to ambient light. Another option is the SmartEye SmartDot, ideal for small part orientation verification/inspection, perfect for tight spaces, and an OLED display for easy setup.
If you're not sure which sensor is best for you and your company, please give us a call, and we can gladly help. We understand our customers have a job to do and have no time for issues, that is why every TRI-TRONICS product is built to be easy to use and durable enough to withstand the toughest environments.We also offer product customization and private labeling upon request.
For product inquiries, please give us a call at (800) 237-0946 or email us at info@ttco.com.