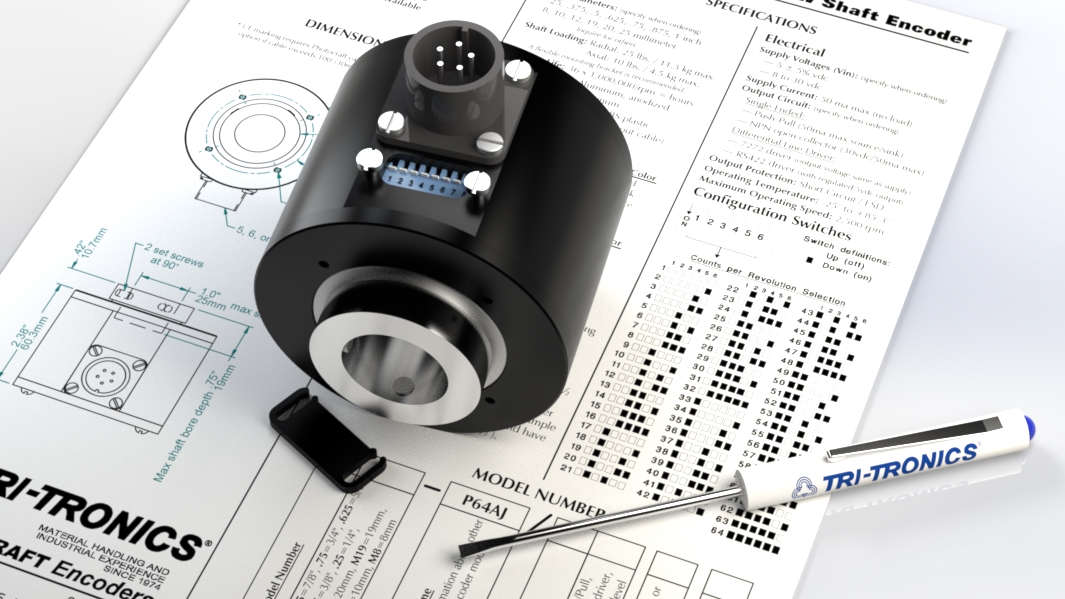 By Matt Reinstetle
Although each company is different, when it comes to industrial automation they all want the same thing – to get their finished products out the door quickly, accurately, and in the most cost-effective way possible.
One of the ways to do that is to have industrial automation equipment which is versatile so that instead of having three different encoder models to do three different jobs, have one model capable of doing all three jobs. That is what makes programmable encoders an enticing option for those in industrial automation looking to reduce costs, save time, increase flexibility and meet application needs.
What are Programmable Encoders?
An incremental rotary encoder is a sensor of rotational motion that outputs a digital pulse train in response to the motion of the shaft or attached measuring wheel. This allows the encoder to provide information concerning movement, speed, and position based on the CPR (counts per revolution) of the encoder. Most encoders are non-programmable and have a permanently fixed CPR. If that CPR proves not to be the correct or best one for your task, you would need to buy a new encoder with the correct CPR. This can result in delays and additional costs.
Programmable encoders, however, allow the user the flexibility to adjust the counts per revolution (CPR) as needed for each application. Install technicians and integrators can make adjustments to system performance on-the-fly during equipment install and qualification. These encoders are perfect for logistics and warehouse automation applications like conveying, sorting, and tracking packages; or anywhere flexibility of encoder resolution is required or beneficial.
Why Choose Programmable Encoders?
Using programmable encoders offers a number of benefits that reduce cost, increase flexibility to adapt, and meet customer needs and schedules in a timely manner. Our programmable encoders allow users to quickly set the output CPR via simple DIP switch settings. There is no need for a computer, programming software or special cabling. Here at TRI-TRONICS, we offer a wide variety of shaft, hollow shaft, and wheeled encoders in both programmable and non-programmable models.
Save on Inventory
Programmable encoders can allow one encoder model to work in many applications, reducing inventory quantities, ordering, and costs. By using one encoder model capable of performing different applications, companies do not have to stock four different models to complete four different types of tasks. This results in lower inventory costs for both the equipment original equipment manufacturer (OEM) and end user.
Save Time and Increase Flexibility
Different customers and different applications, often require different encoders with different resolutions to achieve the desired performance. Often, fine tuning and adjustment of system performance is done on-site during system install and qualification. Sometimes adjusting performance requires changing the encoder resolution (CPR) to meet the application need. Using a programmable encoder provides the flexibility to make this adjustment quickly on-site, thereby reducing costly delays and improving performance to schedule.
How Do I Find Out More?
Here at TRI-TRONICS, we specialize in making photoelectric sensors, rotary encoders, and elevator door protection systems. We manufacture a wide variety of encoders to meet your exact specifications. TRI-TRONICS has programmable encoders for shaft, hollow shaft, and wheeled encoders applications.
We understand that our customers have a job to do and have no time for issues. That is why every product TRI-TRONICS builds is made to be easy to use and durable enough to withstand the toughest environments. We also offer product customization and private labeling upon request.
For product inquiries, please give us a call at (800) 237-0946 or email us at info@ttco.com.