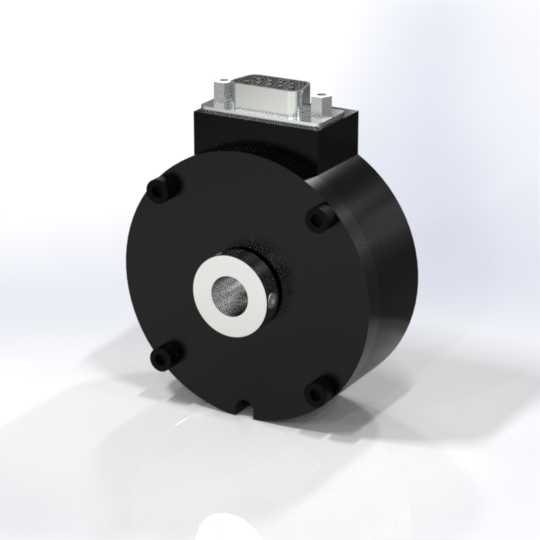 HS25 Hollow Shaft Encoder
---
Features and Options:
Size 25 housing
Single, quadrature, and index outputs
Triple independent outputs
Resolution up to 1200 CPR
Exclusive "Anti-Jitter" option
Made in the USA
---
Product Description
The model HS25 is an industrial strength incremental hollow shaft encoder in a 2.5" housing that mounts directly on an existing shaft. An anti-rotation pin or tether allows the encoder to float on the shaft without rotating. The HS25 generates up to 3 square wave outputs and can be configured as a single (A), quadrature (AB) or quadrature with index (ABZ) device. Dual (AB) and triple (ABC) independent CPR outputs are also available.
Single output models can include the Anti-Jitter feature designed for conveyor and web systems requiring continuous and accurate measurement of the web's movement even if the system must be stopped and restarted without reset. When the web stops, and if there is sufficient vibration or back-and-forth movement, then the encoder output could oscillate, appearing as if the web were actually moving. Anti-jitter eliminates this condition by significantly increasing the pulse hysteresis.
Industry Use
For our programmable Hollow Shaft model, please see our HS25-P Programmable Hollow Shaft Encoder.