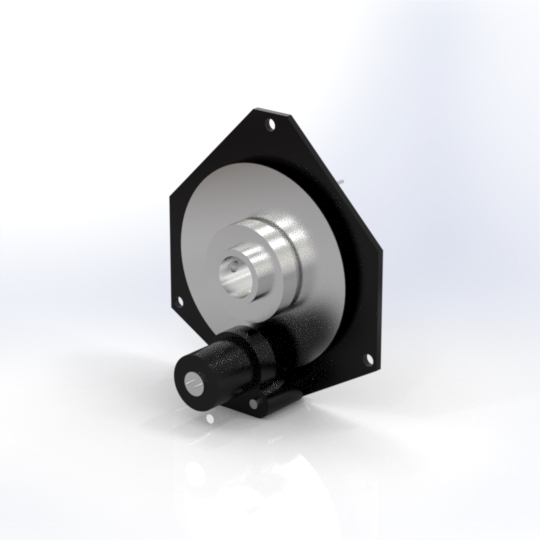 MR 11-bit Modular Absolute Encoder
---
Features and Options:
8, 9, 10, or 11 bit resolution
Up to 2048 positions/revolution, single turn
Digital output: Parallel natural binary or gray code
Supply: 5 vdc
Fits 1/4", 5/16", 3/8", 8mm, or 10mm shaft diameters
Made in the USA
---
Product Description
The MR30 is a full function 11-bit, single-turn, digital, absolute position encoder for applications requiring up to 2048 uniquely identifiable codes per revolution. It is designed for direct mounting on a shaft, accommodating 1/4", 5/16", 3/8", 8mm, and 10mm shaft sizes. It uses a patented, cost saving technology that relaxes the precise alignment tolerances typically required by conventional absolute encoders by an order of magnitude without sacrificing accuracy. This makes possible a low cost, modular encoder that can be easily assembled by the user. An optional mounting base to support the circuit board, and optional enclosure with connector are available.
The basic configuration consists of a circuit board containing all the electronic components, including the optical sensor and infrared light source, and an 10-bit code disk. A proprietary bar code pattern encodes the absolute position information. This unique code results in characteristics identical to conventional gray code based absolute encoders, that is, completely unambiguous position information is always available. A segment of the bar code that is read by the sensor is interpreted by a microcontroller into unique positional information. The position is then translated to an output code, such as natural binary or gray code, and output on the 10 parallel output lines. The process repeats 1K or 3K times per second. An LED indicator on the circuit board confirms correct alignment of the circuit board and code disk, and indicates the zero position of the code disk.
To simplify interfacing to the MR30, a DataReady signal indicates when the outputs are changing. It can be used, for example, to clock an external latch or interrupt a microprocessor.
Industry Use