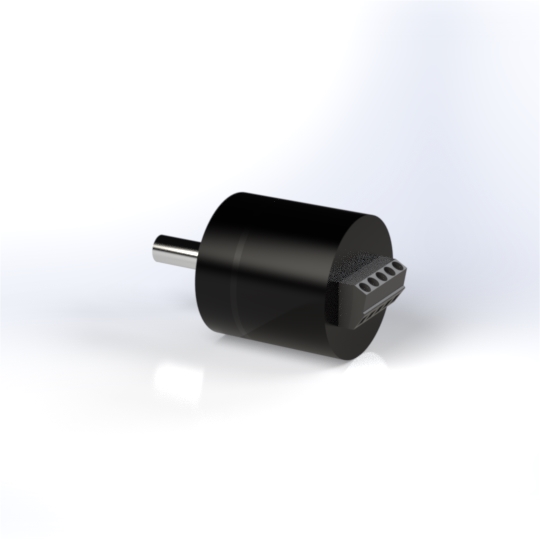 SR12 10-bit Miniature Absolute Encoder
---
Features and Options:
Miniature Size: 1.25" diameter
Up to 10-bit resolution
1024 counts/revolution, single turn
Exact shaft position available even after power interruption
Parallel or serial output
Rugged aluminum housing
Made in the USA
---
Product Description
The Photocraft SR12 is a full function, 10-bit, single-turn, absolute position encoder intended for application requiring miniature size, low cost, and up to 1024 uniquely identifiable positions per revolution. The low cost and small size make it ideal for applications previously limited to using precision potentiometers. The SR12 has the advantage of longer life because of the non-contact optical construction, and it requires fewer external parts since the outputs can directly interface to a computer, PLC or other digital equipment without the need for A/D converters.
The SR12 is based on patented, cost saving technology that significantly reduces the size and complexity over conventional absolute encoders without any loss of functionality. Its construction consists of an infrared LED that provides a uniform, dependable light source, and is used to read one of up to 1024 unique codes precisely imprinted on a code disk. The intensity of the LED is dynamically adjusted to counteract the effects of temperature or aging. A linear array sensor and an integrated microcontroller read and interpret the code disk at greater than 2000 samples per second generating absolute position information accurate to within 1/1024th of a rotation. The position is then converted to either a natural binary or a gray code number and output as a 10-bit digital number in either parallel or serial format. The position can also be converted to a 0-10vdc or 4-20ma analog output.
Use of an absolute code disk guarantees that the SR12 provides correct positional information when power is first applied, without rehoming, even if the system is moved while power is off.
A DataReady output indicates when the parallel outputs are changing. This can be used, for example as a signal to an external system, or to clock an external latch.
Industry Use
Modified Versions
| | | |
| --- | --- | --- |
| Modification | Description | |
| SPI | SR12 with serial synchronous output | |
| M137 | SR12 with M4 x .7 mounting holes | Datasheet |
| M146 | SR12 with 3/16" diameter shaft (without flat) | Datasheet |