Fiber Optics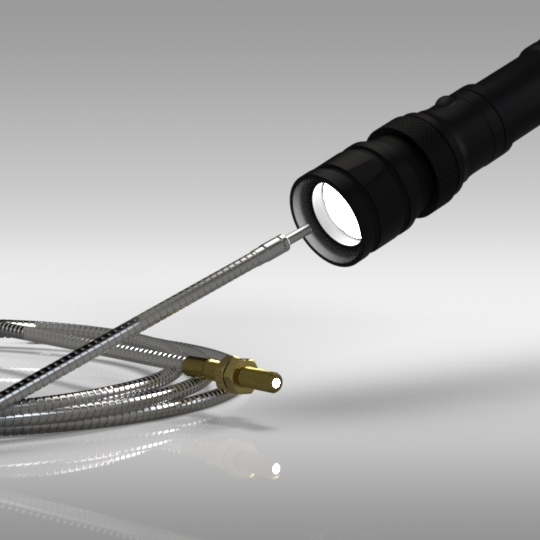 Shine a flashlight into one end of the fiber and the light can be seen coming out of the other end. This ability to guide light from one place to another provides many advantages when applied to industrial photoelectric sensing.
Fiber Optic Light Guides are flexible and small enough to fit into difficult sensing sites. This allows the sensor to be located in a more convenient, remote location — out of harm's way. Fibers are resistant to high temperatures, vibration, condensation, and corrosion.
One of the main advantages of glass fiber optic light guides is that they can be sized and shaped to provide optical advantages. When fiber optic light guides are utilized, they become the optics of the sensing system. At the sensing site, the size and shape of the fiber optic bundle carrying the light controls the size and shape of the transmitted light beam. The size and shape of the fiber optic bundle receiving the light beam controls the effective viewing area of the sensing system.
Lenses are available to provide additional control of the transmitted and received light beams. Both Beam Break and Beam Make sensing modes are adaptable to fiber optic sensing.
Thru-Beam/Opposed Mode

Retroreflective Mode

Optical Proximity Mode

Convergent "V-Axis" Mode

1. USING STRAIGHT LIGHT GUIDES
Straight light guides are a bundle of glass fibers, with the same number of glass fibers on both ends.

• Thru-Beam/Opposed Mode Sensing Straight light guides are used in pairs. One light guide is used to transmit the light from the sensor's light source to the sensing site. Here the light beam is focused, or directed across the area the target is to be passing. The receiving light guide is located on the opposite side, aligned in position to receive the light beam. Then this light guide transmits the received light back to the sensor's photo detector. When a target or object passes through the light beam, the sensor responds to the absence of light and switches its output accordingly. This is called Beam Break, or thru-beam sensing.

• Convergent "V" Axis Mode
At times thru-beam and proximity sensing won't work for a particular application. By using a pair of straight fibers directed at an object in a "V" configuration, a certain part of the object can be detected.

2. USING BIFURCATED LIGHT GUIDES
Bifurcated light guides start out as one bundle of glass fibers. This single bundle is then split into two separate bundles of fibers at the sensor end, and left as one randomly mixed bundle at the sensing end.

• Beam Break Sensing or Retroreflective Mode
The sensing tip of the fiber is placed on one side of the detection path with a reflector on the other. The object passes between the fiber and the reflector, breaking the beam and switching the output of the sensor.

• Beam Make Sensing or Proximity Mode
One half of the fiber transmits the light to the sensing site. The other half transmits the reflecting or diffusing light off the surface of the target back to the sensor's photodetector. This "proximity mode" sensing is used to sense nearby objects.

3. EXPLOSIVE ENVIRONMENTS WARNING
While fiber optics are considered to be intrinsically safe, the sheathing is a hollow tube that could conceivably provide a flame path. Additionally, the photoelectric sensor must be placed into an approved enclosure.

4. LONG FIBERS
Glass fibers absorb 10% of the remaining light for each foot of glass the light travels; 15ft fibers have brighter beams than 20ft fibers, etc. Fibers can be ordered in longer lengths in 12in increments up to 30ft.

5. ROUTING/BEND RADIUS
Avoid sharp bends when routing light guides around machines. A good minimum bend radius is approximately 10 times the jacket diameter.

6. WATERPROOF
Liquid inside the fiber's protective jacket will lower transmission. Use PVC monocoil jackets in wet locations.

7. REPAIRS
Fiber Optics must never be cut or broken. Never pull on a fiber optic's protective jacket. They cannot be repaired or spliced. The tips cannot be bent unless specifically noted. They are filled with epoxy, and will break. Abrasion can scratch the face of the fiber optic bundle and lower its performance.

8. CLEANING
Avoid dirt build-up on the bundle face. Clean with filtered air, soap and water, glass cleaners, toothbrushes, etc. Avoid abrasives.

9. FIBER OPTIC LIGHT GUIDES TEMPERATURE RATINGS

GLASS FIBERS (Type 304 stainless steel)

Standard Fibers
Excess heat above the rated temperature damages the epoxy in the tips, or melts the PVC monocoil jacket.

• Flexible Stainless Steel Jacketing
Operating temperatures from -50°F to +525°F (-45°C to +275°C)

• PVC Monocoil Jacketing
Operating temperatures from -40°F to +220°F (-40°C to +105°C)

High Temperature Fibers
On various tests our high temperature fiber optics were subjected to temperatures above 500°C for ten hours, and they held their bonding elements without failure.

• Stainless Steel Jacketing (Type 304)
Operating temperatures from -50°F to +900°F (-45°C to +480°C)
1. Select mode of sensing best suited to your application, e.g., "straight light guide" for Beam Break/opposed mode sensing, or "bifurcated light guide" for Beam Make/proximity sensing.

2. Determine whether the standard size or the miniature fibers will work best.

3. Select stainless steel armored cable for most applications, including high temperatures, or PVC jacketed monocoil for wet applications.

4. Select fiber optic bundle size and shape that optimize the viewing area and provide the greatest amount of contrast deviation as displayed on the CONTRAST INDICATOR.

5. Select the tip configuration that best fits the sensing needs, such as, right angle, straight, stainless or brass threaded (both 1.5" and .625" lengths), or side view.

6. Use the Glass Fiber Optic Model Number Matrix below to create the model number that matches your selected sensing mode, jacketing, fiber optic bundle, size, and tip configuration.

Plastic Fiber Optic Light Guides
Model numbers for plastic fibers do not fit this matrix. If you have a need for a plastic fiber, look through the Plastic Fiber Tab.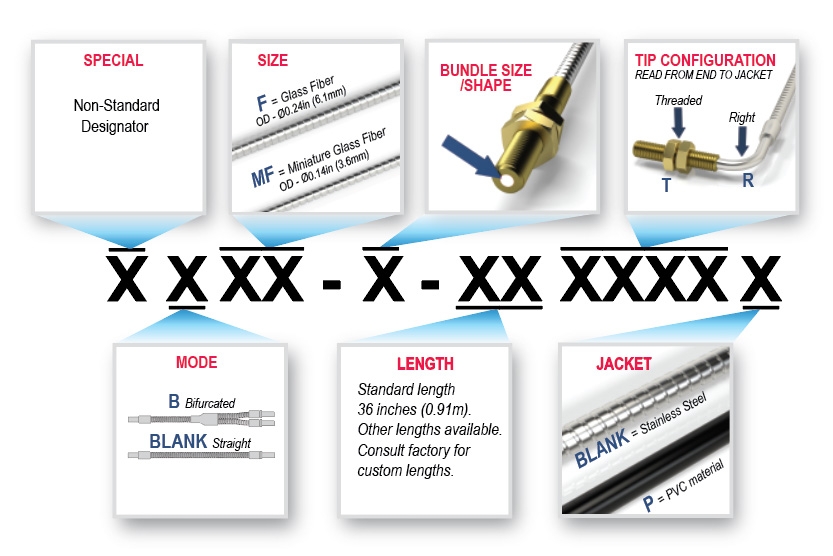 TRI-TRONICS® can produce custom Fiber Optics designed and manufactured to meet your specifications.
For custom Fiber Optics, please contact us.
Construction

Core – Thin plastic center of the fiber through which light travels.

Jacket – Layer around plastic fiber to protect from damage and moisture.

Multi-core High-Flex plastic fiber differ from conventional plastic fibers in having multiple independent cores. This configuration allows a bending radius as small as 2mm. They can be bent with no reduction of light transmission. They can be threaded through machinery without the problems associated with extreme vibrations or pulling.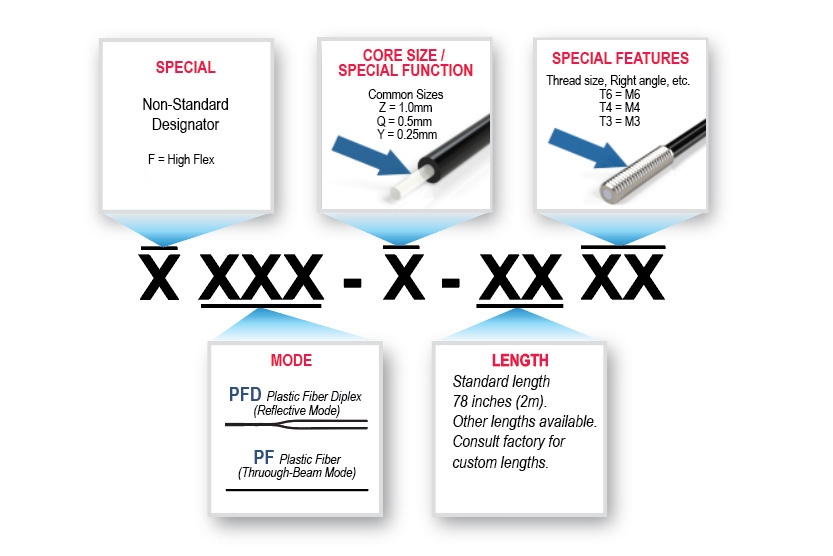 This Matrix does not include all possible plastic fibers.
For custom Fiber Optics, please contact us.
Plastic Fiber Optics
Special Purpose Plastic Fiber Optics