Retroreflective & Polarized Retroreflective
Tri-Tronics® offers both Retroreflective models and Polarized Retroreflective models.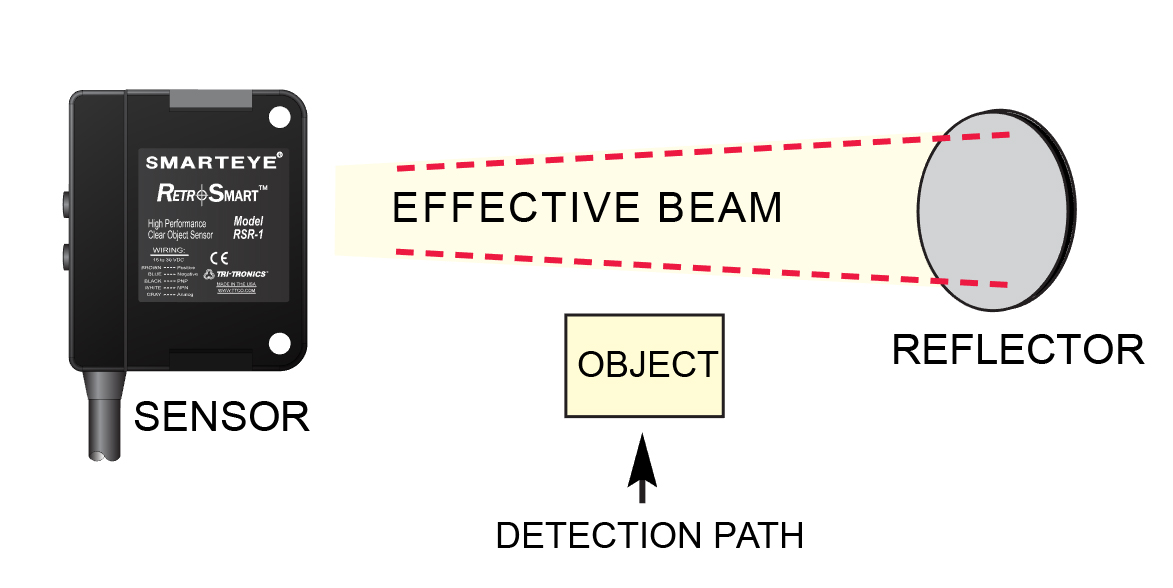 Retroreflective - Very narrow beam optics designed to sense reflectors or refelective materials at long range. Designed for Beam Break sensing.
Polarized Retroreflective - Polarized to reduce response to "hot spot" glare from shiny surface of detected object. Used with red or blue light source.
The Retroreflective sensor contains both the light source and receiving device in one housing. A unique dual lens system or bifurcated fiber optic light guide establishes the transmitted light beam path and the returned light beam path on the same axis. When a retroreflective sensor or fiber is pointed or aimed at a reflector, the light beam is reflected back to the receiving lens or fiber. Sensor alignment with a prismatic reflector can be skewed by 10 to 15 degrees and, still a strong light beam will return to the receiving lens on exactly the same axis as the original transmitted light beam.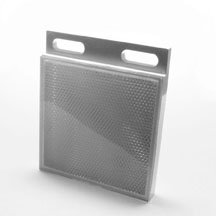 To detect presence or absence of objects, the light beam path is directed across the detection path so that passing opaque objects interrupt the light beam. When the light beam is broken or when the intensity of the received light beam is reduced below a threshold level, the sensor responds by switching its output.
When sensing small parts, the recommended choice is opposed mode sensing using fiber optic light guides. The retroreflective sensor is generally low in cost and easy to install. However, care must be taken to ensure that shiny objects passing near the sensor do not reflect a light beam off the surface of the object strong enough to accidentally switch the sensor's output. This undesirable characteristic of the retroreflective sensor is referred to as proxing. To prevent proxing, the sensor's light beam can be aligned on an angle of incidence that reflects the light beam away from the receiving lens. Another way to reduce proxing is to polarize the light beam. Polarized light helps to ensure that only the light beam reflected off the prismatic reflector reaches the sensor's receiver. While reducing the response to light reflected off the surface of the sensed object, polarizing reduces sensing range.

Detection of Large Objects


Detection of reflective tape
at high rapidity


Detection of objects moving
at high velocity



High performance retroreflective sensor
for sensing a transparent
glass or plastic product


Fiber optic retroreflective detection
of moving objects



Beam Break detection of objects
at sensing sites where
mounting space is limited
Click Here to Purchase a Retroreflective Sensor!
Click Here to Purchase a Polarized Retroreflective Sensor!
To learn more about the sensor families we offer in this product class, please see below.