Thru-Beam/Opposed Mode
In the Opposed Mode of sensing, two separate devices utilizing either lensed or fiber optic light guides are used to make or break a beam.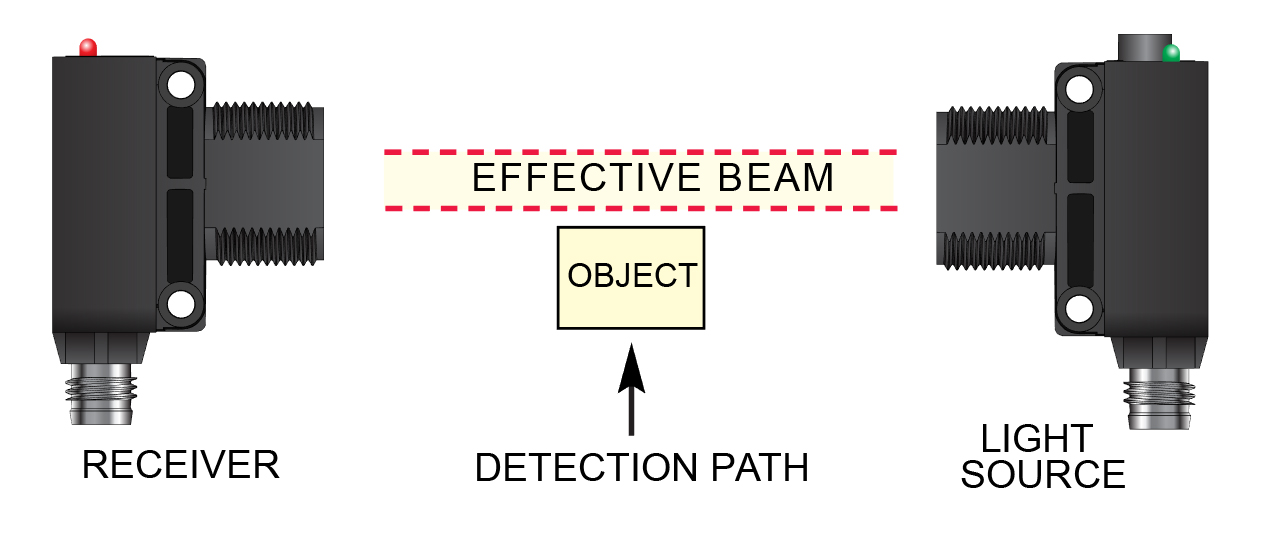 One unit is the light source.
The other is the receiver.
In this mode, the light source transmits a beam of light across the detection path to the receiver. Detection occurs when an object interrupts, or sufficiently diminishes, the intensity of the received light beam.
Unfortunately, Beam Break sensing is often overlooked as a result of the initial cost of purchasing and installing two separate devices and the sometimes tedious task of alignment. However, the opposed mode of sensing has distinct advantages when detecting opaque products. lt provides the most reliable sensing method under very adverse conditions, such as dusty, dirty, and moisture-laden environments.
Remember… when opaque, go Beam Break.
| | |
| --- | --- |
| Detection of very small objects | Detection of an object's precise location |
| Detection of fill level in containers | Detection of container contents |
| Detection of splices or overlapped materials | Detection of opaque objects |
Click Here to Purchase a Thru-Beam Sensor!
To learn more about the sensor families we offer in this product class, please see below.